Brain Food, Literally
There is nothing more important than our health. When we feel good, we are good! We want to live long with a high quality of life. That means we need a strong memory and great cognition. How, then, can we achieve our health goals? We have to look at what makes up the quality of our health: genetics, lifestyle, and nutrition.
Genetics is out of our hands, but lifestyle and nutrition are in our wheelhouse! Eating for brain health is preventive, just like taking vitamins and exercising.  While we can improve our strength and physical health of our organs, here we have power, we can make great choices! However, there is so much information out there that it's difficult to know where to start.
I looked to Lisa Mosconi, who founded the Nutrition and Brain Fitness Lab at NYU and is now the Associate Director of the Alzheimer Prevention Clinic at the Weill Cornell Medical College. Her book Brain Food gave me a roadmap to easy, healthy food choices we can make every day.  Think vegetables, then grains, then good fats and fruits and water! Lots of water. A lot of it we already know, she makes a clear argument for why and how it all works. I've tried my best to make it short and sweet and like a daily checklist of healthful eating.
We all know that we should cut down on refined sugar and white flour, and to keep it simple by staying away from bad fats found in foods like butter, certain meats, and unhealthy oils. If you need to add sweeteners, stick to maple syrup, raw honey, and coconut sugar (I even bake with it).
Veggies: All kinds of lettuces, the darker the better, cucumber, zucchini, radishes, celery, onion, turnip, spinach, and cabbage.
Fruit: For sweet fruits, think grapes, kiwi, blueberries, strawberries, grapefruit cantaloupe, and watermelon. These aren't just sweet and satisfying, they are water-rich foods that help with all the water your brain needs.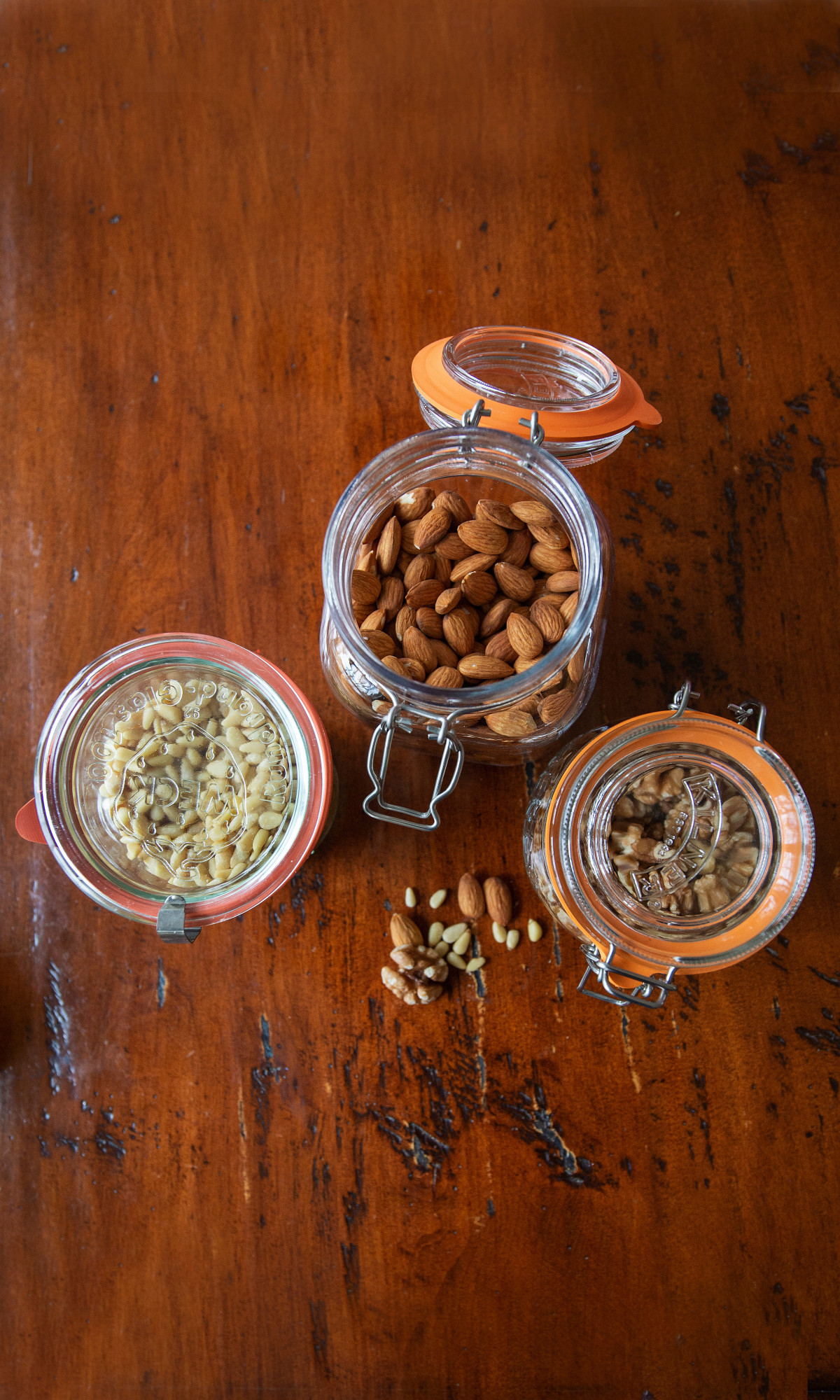 Fat: Here's the deal with fat. It's easy. Focus on the good fats. Omega 3 and Omega 6. Flaxseeds, walnuts (I eat 6-10 every day with my probiotic Greek yogurt), chia seeds, wheat germ, and fish oil (salmon, mackerel, cod, and even caviar) are all fantastic sources of "good" fats. Nuts, fish, avocado, olive oil.  I call it noofa (instead of loofa).
Carbs: Carbs are tricky, experts disagree about what kind and how much carbohydrates you should eat. The answer, according to Mosconi, is that carbs are good and the right carbs help fuel that brain. Eat sweet potatoes, wild rice, whole-wheat pasta and bread (in moderation), and use sorghum flour when you can in baking.
Protein: all we hear about is protein, protein, protein these days. According to Mosconi, 20 percent of your daily intake should come from protein and the best protein for your brain is a whole egg. Yolk and all next is grass-fed chicken and beef. Wild-caught salmon and the other fish mentioned in the fats section of this list.
Drink: Water, water, water, and green tea, cocoa tea, and of course matcha for all their polyphenols. And lucky for us, red wine is definitely on the list.
Vitamins: Think all the B vitamins, especially B which you can get from one teaspoon of royal jelly over that morning yogurt and walnuts, and vitamin C. Magnesium, copper, iodine, and K.
And the most important take away, eat organic and unprocessed food. It is the best food for you! Just sticking to that makes it all the rest easy to follow.